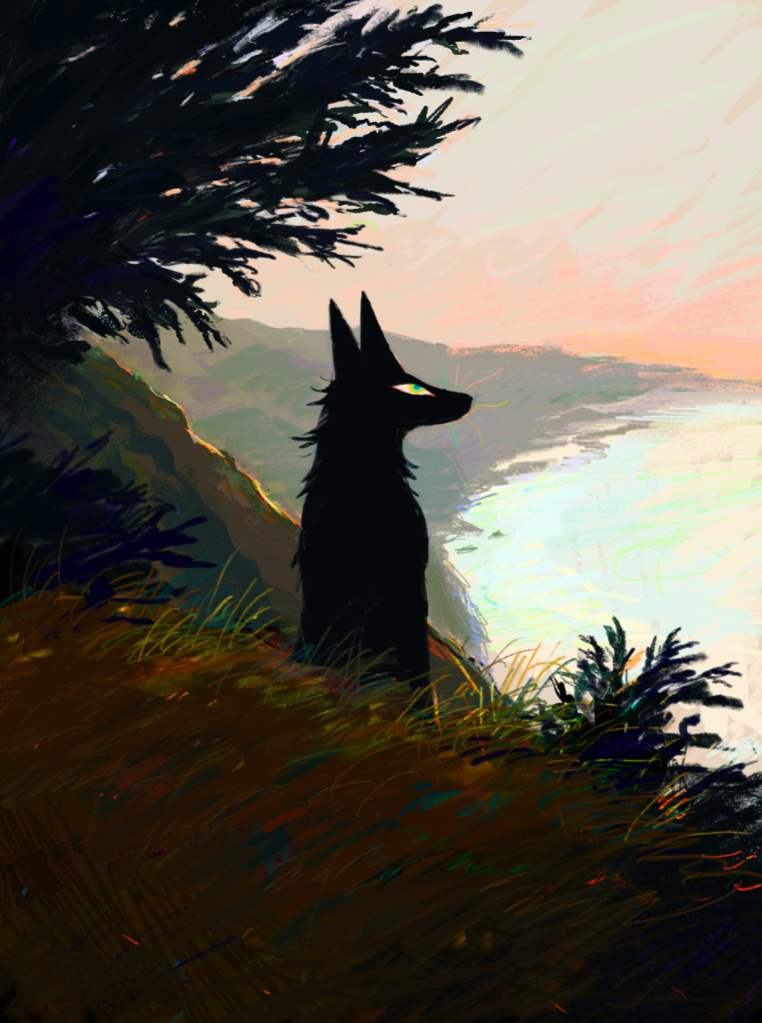 ✹ about me ✹
▄▀▄▀▄▀▄▀▄▀▄▀▄▀▄▀▄▀▄▀▄▀▄▀▄▀▄▀▄▀▄▀▄▀▄▀▄▀
✹ i work as a freelance artist✹ from central coast california , but currently live in los angeles✹ i like experimental art, using sketchy lines and textures, i also draw and design furry/anthro characters✹ i'm working on and off on a story/headworld called dog of paradise featuring my oc tex (currently on hiatus!) since 2014
▄▀▄▀▄▀▄▀▄▀▄▀▄▀▄▀▄▀▄▀▄▀▄▀▄▀▄▀▄▀▄▀▄▀▄▀▄▀
interests
colors, fashion, graphic design, architecture, interior design, rainbows and clouds, ocean science and marine biology, local surf + skate culture, y2k aesthetic, perfumery, gamecube games, wolves, sharks, snakes
---
some songs i like
✹ ✹ ✹ ✹ ✹ ✹ ✹ ✹
thats all...
My commissions are currently on hiatus, though may open at complete random. At this time, I do not have any information on the pricing or commission types that I offer. Thank you for understanding.
However, I may be available for work outside of commission openings. I am more likely to work on larger projects. If you are interested in hiring me, feel free to contact me to see availability.
pwyw illustrations
PWYW (pay what you want) commissions are chosen by you and your budget, or offer. You can request a certain type of commission - a full scenery painting, full body colored art (of single or multiple characters), headshots, busts, reference sheets, or character designs, basically ANY commission type I have already offered you can offer for it this time, or for commission types I might not have done before! Just give me an idea of what you want and an offer you feel is fair. You can also request multiple commissions under a single offer - for example, several headshots for an offer you feel is fair. A minimum offer I will accept is 30 usd, a price for a full body sketch or a colored headshot.
Please note my PWYW may be a bit experimental, as I like to experiment when I do Illustration work. I like working with different kinds of fun lighting and atmospheres, the colors and shapes of your character, and even play with my style. Please keep this in mind when commissioning me.Pricing is open based on your offer or your budget. I work based on the amount provided. A minimum of 30 usd may be accepted. (would be the price of a single sketch colored headshot). You can see the examples & types below for more price ideas. I generally try to make a certain amount of money during an opening, so I do learn towards larger offers/commission requests, but try my best to take on some smaller ones as well.Some types of commissions I can do:
I can do character designs as part of my PWYW commissions.

Reference sheets (one of my most recent examples here) with your choice of style & details. I can drawn them front facing with a symmetry tool, or at a 3/4s view. I can do outfit chibis, extra headshots for details like mouth view/different hair style/jewelry, as well as items/"inventory". I like using unsplash.com images for the backgrounds and dafont.com fonts for the name, or I can do just a plain color - just let me know, and any details you want on the reference sheet. I can also do fursuit styled reference sheets.

Outfit charts, which includes a simple drawn base of your character with up to 8 outfits. I can draw them in a more "chibi" style or anthro style. (Examples here, here, and here.) This would be base price of a fullbody art + 10-15 per outfit depending on detail.

Digital badges, but I can offer styles outside of my usual style.

Icons/Avatars, could come with a plain background, or something simple or complex with fun lighting.

Tattoo designs, although I have little experience with tattoo art.

I can even do album art!

Anything else you had in mind, just ask!
general character designs
Base Character Design Customs Information
---
Price: 125 usd
or
PWYW Sliding Scale: 50-100 usd
---
General Commission Info:
either a sketchy, somewhat experimental fullbody design, OR an (also sketchy/loose) symmetrical, slightly more simplified, pwyw sliding scale option for those who cannot afford my main price (this is done with symmetrical art as it is less time consuming.)

how does the sliding scale work? this is an honor system. please only use this option if it's what you are able to afford based on your income. i can only take a limited amount of these, since i must take main commissions to fill my livable quota (rent, bills, groceries, taxes) i will take a few sliding scale options after i meet a quota. paying more does not mean more likely to be chosen, so don't be shy if you can only offer 50! i choose based on prompts i can confidently work with best, not the offer. while art is my only income and i have to focus on making enough each month, i do want to make my art available to a wider audience and so i am experimenting with this.

you can send in multiple prompts, i will only pick one per person to give more people a chance. i prefer if you send in multiple requests in a single submission!
Commission Process:
depending on your prompt, will get a rough concept, potentially multiple to pick from, at that point i can make almost any change / edit or even redesign completely since it is just a rough sketch that will be redrawn. i can only redesign a concept sketch completely once, from there i will only do minor edits.

once the concept is approved, i'll finish the art. once the art is done, i can no longer make edits.

at this time, i cannot offer outfits, clothing. (jewelry, piercings, small accessories like bandannas and collars are fine at no extra cost)
What I Can or Cannot Design:
I CAN DESIGN:
Any animal, gender, bodytype.

Fan characters like Pokemon, Neopets

Artistic nudity / genitalia if requested
I CANNOT DESIGN:
Humans, humanoids

MLP style

Closed species

Racist, neonazi, themed characters

Anything that appropriates another culture (native american / indigenous peoples designs, "w*ndigo" characters, japanese based designs (kitsune, etc). this does not apply towards european culture / folklore. If it is part of your identity/culture and you give me permission to work with it, that is fine with me, just let me know in your commission form, or else I may automatically reject the form.
---
Important Disclaimer
I have a physically + cognitively disabling neurodegenerative disease. Because of this, without going into too much detail, my workflow is unpredictable. Despite everything, I love to draw and create. It limits some of my time and abilities and even physical movement of my arms and hands, so I work primarily in a sketchy, loose style with simple poses, and may experience delays. BECAUSE OF THIS, at ANY time, even if your commission is almost complete, you can get a FULL REFUND if the wait makes you uncomfortable. (I will then finish the design at a later time and sell as an adopt.) I do try to complete all my commissions within a month of taking them and avoid taking more until my queue is done. If you have any questions about my disease or work, you can always ask, I am not offended.
---
experimental busts
Experimental busts are one of my favorite types of commissions to offer. It features your oc as a bust (this could be shoulders up, waist up, etc, its experimental after all) with some scenery, sometimes some unique lighting affects.I offer two types:100 USD - this is for more simple scenery such as clouds + ocean, clouds + simple mountains, or more stylized/abstract/expressionist backgrounds and scenery, and/or the use of thick lines for a less detailed style.120+ USD - this is sort of an offer on top of my base price. This is for more detailed or complex scenery, such as fields, trees/plants, forests, desert scenery, etc, as well as more detailed lines and shading in the art iself, and also inclusion of props (drinks/food, flowers, electronics like a camera or video game system, etc)It's important that you tell me a lot about your character - such as their aesthetics, to help me make a piece that fits them, unless you are okay with me experimenting and coming up with something myself. If you have a moodboard (like a Pinterest moodboard) and are cool with me taking inspiration from the photos in the board, this helps me a lot, especially if you have a more specific scene or style in mind. Without provided information, i'll just experiment and come up with something myself.And please remember: my style is experimental. I love using new brushes, new techinques, etc. I may offer multiple versions of a commission, such as versions with a fake "film" effect, a border, etc for free.
outfit charts
What is an outfit chart?it's a base of your character, with different outfits showcased on it! think of it like a dressup doll. its great to use to show off your characters's personality + style, and a tool for commissioning others to show what outfit you want your character in.I do either 4 outfits for 120 usd, 6 outfits for 160 usd (styled as, 3 in each row), or 8 (4 in each row.) for 200 usd.You can provide as many references as you want. I can make every outfit based on references you provide. I am also happy to design outfits at no extra cost. You can mix and match this. You can also give me, say a t-shirt, and ask me to design the rest of the outfit. It helps to provide details about your character like colors and styles they typically would wear.If you don't have any image examples at all and would like me to design all the outfits, I need a description of your character's style to work from. Good examples would be:> "My character is sort of a woodsy, outdoorsy type of person. They mostly wear earthy, warm colors. Their favorites are forest green, mustard yellow, burnt orange, dark reds. They typically would wear flannel shirts, heavy jackets, chino pants, jeans, and hiking boots. They would never wear purple or pink, or short sleeve buttoned shirts, or cargo shorts."> "My character is very cottagecore based. Lots of handknitted sweaters, airy dresses, linens, high waisted shirts, blouses. Leather accents/accessories are great, as well as sun hats, light jewerly, and maybe a flower crown or two. Maybe half the outfits could have some light floral prints. And one outfit with a pair of green overalls. Please no dark colors (aside from dark brown.) or anything neon."> "My character LOVES bright, primary colors, with some black mixed in. I'm cool with almost all styles of outfits. I'd like at least one outfit to be a buttoned up short sleeve shirts with a bright pattern, any kind of pants or shorts with them, and an outfit with a black hoodie with primary color Vans shoes as well. No crop tops though."> "I have image references for 4 of the outfits, but I need the other 4 outfits to be designed by you based on the styles already provided. I'd like one to be a hoodie, one to be a formal outfit (like a dress shirt, no tie), one to be a summery outfit (like a tank and shorts), and one to be a winter outfit, with a heavy jacket."If i'm designing outfits for you, you will see rough ideas of the outfits before I finalize the art, so we can make any changes you need to outfits.I can also make minor edits to the base, like change hair style/color, add makeup, etc.I can add text to the chart, to explain details about the outfit.I am okay with "suggestive" outfits - collars, harnesses, lingerie, pup masks, for example.
terms of service
---
General
By commissioning me, you are agreeing to these terms. Terms are subject to change.

You must be 18 years or older to commission me.

I can communicate through Twitter (@scpkidd), Telegram, and Email.

You may contact me at any time on the status of your commission or place in the queue, or you may visit my Trello.

I do not offer deadlines at this time, but I may offer a rough estimate of commission completion upon request.

I have the right to refuse or cancel a commission at any time. (See Payments & Refund)

I am okay with working with NSFW / nude character references.
---
Payments & Refunds
Paypal & USD only

I take payment upfront, after accepting your commission request. You will receive an invoice through your provided Paypal address. *In some cases, I may provide a Paypal.me link instead. You are expected to pay within 24 hours, or your slot will not be secured and will be given to someone else.

I accept full refunds on Character Design commissions at ANY step in the queue, including completed design commissions. However, a completed commission is only open to refund within 48 hours of receiving the completed file. After that, I cannot accept any refunds. You are of course, allowed to sell the design or trade it. All rights to the refunded design will then belong to me, and may be resold on my Toyhouse.

I do not accept full refunds on other types of commissions (custom illustrations and such) past the sketch acceptance stage. If you approve of the concept sketch, in which then I will begin lining and then coloring the art, I can not longer accept a full refund, but only 50%. On rare occasions, the unfinished sketch may be reused for personal or commercial use (used as a YCH, for example) to reimburse lost profit. If the artwork is completed and sent to you, I will not give out any refunds.

If I feel like I cannot comfortably complete your commission, for whatever reason, (usually the case of art block and struggling with the design prompt, or I may be struggling to complete my queue due to illness and need to cut down on the work load), you will receive a full refund, even for illustrations in process.

Payment Plans: Please note this is only for Pay What You Want (PWYW) commissions. I am open to a payment plan if the price of the PWYW commission is 300 usd or more. An acceptable payment plan would be half upfront to secure your slot, and another half within a discussed time frame. Commissions under 300 usd must be paid in full upfront.
---
Permissions & Usage
You may reupload your commission anywhere you would like, but please credit me where you can, including design work. A simple "commission by scpkid (or @scpkidd if on twitter) is perfect. If you reupload to Toyhouse, you can credit me using the on-site feature as "scpkid".

If you are NOT the owner of the commission, you may NOT reupload it or use it for any reason without explicit permission from the original commissioner.

I have the right to post completed commissions wherever I wish to and use them as examples for future commissions, UNLESS you ask me during the commission process to keep the commission private.

You may not claim the artwork or design as your own.
---
I can draw:
All animals of all kinds, including rare, bizarre, and uncommon animals.

All genders, body types, styles, etc (such as trans characters)

SFW nudity - no genitalia visible

Design commissions of Closed Species, only if you have permission / MYO slot
---
I might draw:
Complex designs (a fee may be added)

Blood / Gore / Body Horror themes (realistic or candy gore)

Most Weapons (firearms, knives, nail bats, brass knuckles, swords, etc)

Most drug use (tobacco, weed, alcohol, hallucinogens, cocaine, generic pills)

Robots / Mechas

Nudity (genitalia visible) for reference sheets and similar types of art
---
I will NOT DRAW:
Humans / Humanoids

Some subjects of "SFW" Kink Art. Some may be acceptable such as leather / bdsm themes incorporated in design. You can always ask to be sure.

Cub / Babyfur themes regardless if SFW

Characters labeled with slurs (herm, cboy, dgirl, etc)

Offensive Art / Hateful Themes / Cultural Appropriation
✹ design ownership ✹
This applies to all my character designs - received from commissions, adoptable sales, auctions, trades, from other people reselling designs.
However, Patreon adopts/requested designs have some special rules, and can be resold for any value after being received directly from me.
If I find you breaking my rules, you'll receive friendly warnings/reminders! If it is a repeat offense, I may have to privately blacklist. I only try to publicly blacklist for severe cases, like chargebacks or scams.
I take payment through Paypal. I may use Paypal.me links or invoice. I may also take payment in alternative ways, but I primarily use Paypal.
✹ General Rules
You can change species, gender, colors, markings however you want

You are free to edit the actual art of the character design that I made - such as shift hue, saturation, or even draw over my original art

If the character for sale has their profile still intact, you are free to keep it. This also counts for characters in my headworld - you can keep them a part of my headworld if you want. Or, include them if they aren't!

You may not claim the original design as your own work. You may point out and take credit for edits you have made (example credit: design by scpkid, edits by me), or crediting us as both as equal designers if enough change have been made (example credit: design by me and scpkid)

All sales are final, I do not do refunds - if you no longer want a design, resell it or trade it!

Payment plans/holds? I am okay with downpayment/hold if the offer is over 300 and downpayment is at least 30%. I strongly prefer payments done in two parts, up to 4 if the offer is high enough (over 1000.)

You can make merchandise of the design (pins, stickers, and charms for example) or make a fursuit to sell or auction, I still ask that you credit me WHEREEVER you can. Crediting me and linking back one of my accounts in the items description is best. If you have any questions about this or feel unsure, feel free to ask.
---
✹ Ownership Transfer
I do not settle any future ownership disputes once I have sold the design and it is no longer in my own ownership, I apologize in advance.

Traded designs may only be traded.

Selling it for a price higher than you bought from me is a grey area even I can't settle on. This is not against my rules or blacklist worthy, but I still strongly prefer to see my designs resold for the original value. If you want to resell for the cost of art you accumulated, that is understandable. I kindly ask that you do not police others for how they resell, as it's not something I intend to enforce/control.

Do not buy or sell adopts through Amino. I recommend only buying or selling them through Twitter, Toyhouse, or Furaffinity. Toyhouse is your best bet since characters have transfer history and are approved by me when they are first uploaded. Buying or selling from Amino won't get you blacklisted, however I STRONGLY discourage it, since many characters for sale on there are stolen.
F.A.Q
Can I use your art? (for Icons, Tattoos, etc)
I'm fine with people using my personal art for icons/avatars, backgrounds, headers, and profiles. I appreciate a form of credit (like on twitter, you can @scpkidd in your bio.)You may also use parts of my art as personal tattoos. If you share an image of the final tattoo online, please credit me, thank you!However, please do not use art commissioned by other people without their permission! You can ask me privately to make sure the art is not a commission for someone else.What do you use to draw?
Procreate, iPad, and Apple Pencil
I use default brushes and brushes from True Grit SupplyDo you do requests or trades?
I do not do requests or free designs, sorry! I may do trades with mutuals (mutuals as in, we follow each other, on any of my accounts or websites) just ask! I may not always be available though!When do you open for commissions?
I don't have typical commission openings. It changes a lot due to life circumstances. I tried to open every month, but so far I haven't been able to. You can see my trello for a general opening idea but that is always subject to change. I will always announce on my twitter before I open to give people a heads up.Where do you sell your bases?
I have a monthly 10 USD tier on Patreon where you receive 2 bases at the end of each month. You can subscribe and have immediate access to all past bases (and unsubscribe when satisfied), you can stick around for new ones. Thank you for supporting me if you do!
Design F.A.Q
Can you do redesigns of current designs?
Yes, just include images of the design in the form when you submit it. However, I may be uncomfortable to redesign a character made by someone else. I would strongly prefer to redesign something you made - assuming you're also okay with that!Can you design _____?
Anything! I've designed things such as fantasy hybrids, rare and uncommon animals, prehistoric animals, even things like bacteria, fungi, viruses, and so on, as anthro before. I am prepared to tackle any prompt. A weirder prompt isn't any less likely to be picked! I enjoy a challenge.What about something like a robot or something mechanical, or even a plant?
Sure, I'll try my best! Doesn't have to be an /animal/! (Just no humans!)Can I send in multiple commission requests?
Yes, however I will pick one per person due to high interest. Submit a few if you want for me to pick from!If my prompt isn't picked for a round, can I resubmit?
Absolutely, I normally get 5x the amount of responses of what I can take on (I try to limit myself anywhere between 10-30 slots, any more than that can be overwhelming). It is unlikely I didn't pick yours because I didn't like the prompt.Can you design something inspired by a culture?
If you are interested in a design based on / inspired by your culture and you can provide me with information so that I can create something that is respectful, yes! But I will not design culture based designs if it is not part of your culture. For example, if you are not Native/Indigenous I will not make you designs with markings / motifs based on Indigenous art, if you are not Japanese I will not make you a yokai inspired design, and so on. This also includes everything from cultural design to spiritual beings from other cultures. (Please note this does not count European folklore/mythical creatures. I can make designs based on European culture, mythology, and design.) If you want something based on your culture, simply let me know in your commission request.Can you design this based on (other artist's work or design)?
No, I WILL NOT base any design off another artist's style, existing work, etc. Basing it off modern or classical art is fine. Such as making a design inspired by Keith Haring or Claude Monet's art and style or anything like that, but not a fellow artist or character design without their permission.Can you give me two versions of a design? (for example, one without an accessory, or with an added hairstyle, etc?)
Sure, at no extra cost. Just ask!Can you add breasts/make it more chubby/etc to the base?
I can make pretty much any (reasonable) edits to the base, even if it means completely redoing the lines, as long as it follows the pose and general idea of the base. I can add breasts, change the body type slightly, etc.Now that I own the design, what can I change about it?
You can change the design AS MUCH as you'd like. Species, markings, colors, gender, doesn't matter, I'm happy with whatever you decide to do with them! Have fun!!
character design
designs range from 2018-to present time, and are not in chronological order
---
---
check out my designs page on toyhouse for even more designs i've done.
illustration
*(not in any particular order)
older art (2019-2014)